High Intensity Tactical Training (HITT) is a comprehensive strength and conditioning program that provides programming, facilities and education for active duty and reservist Marines. It focuses on physical resiliency and combat readiness. Phases of work out include pre-deployment, deployment, and post-deployment, or building your own workout templates, the Marine can fully develop and maintain their physical readiness and resiliency.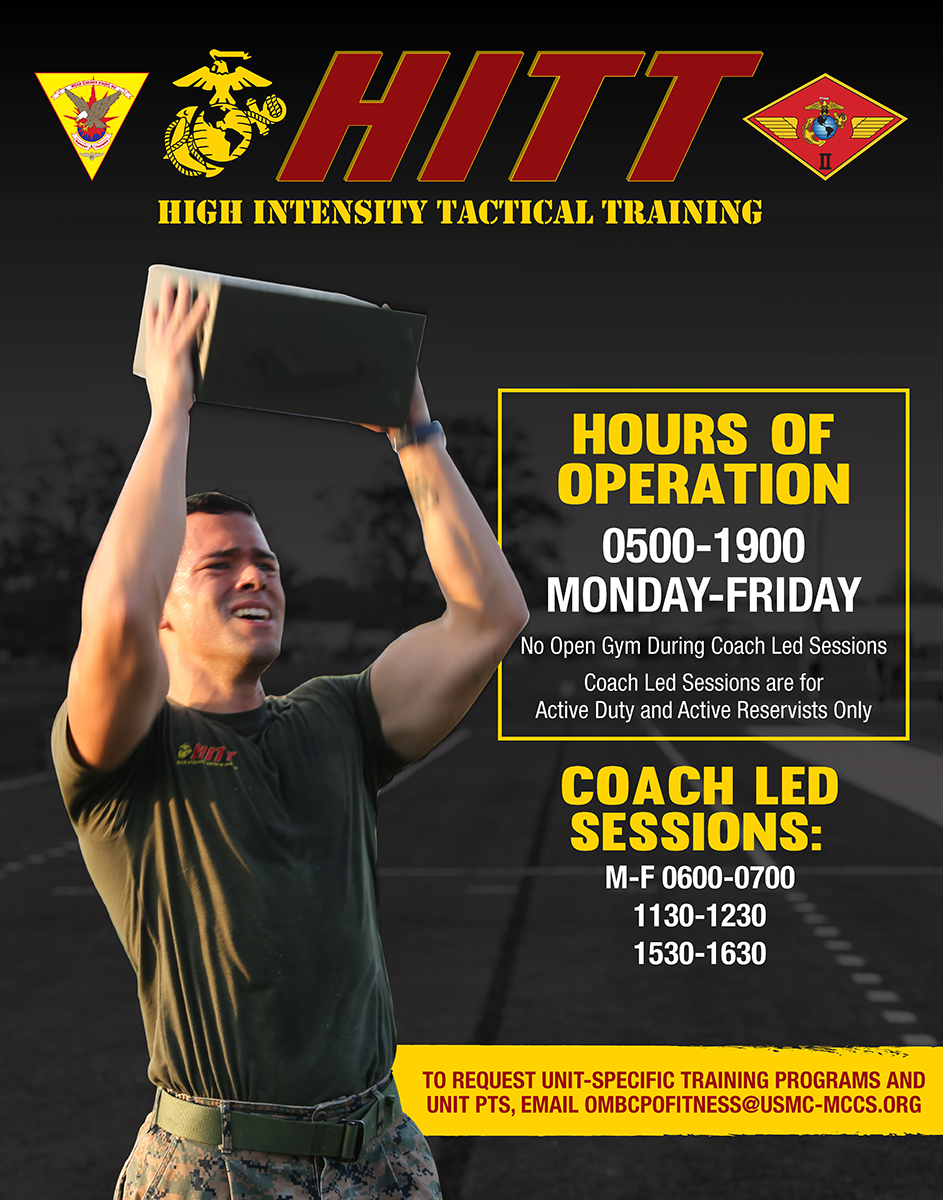 The tactical strength and conditioning program encompasses 4-week training blocks within the calendar year to prepare Marines for PFT/CFT seasons. Each Marine will be given a tracking sheet for these block periods to ensure progress has been made in our HITT program.
These training blocks contain the foundational movement patterns (hinge, push, pull, squat, lunge, rotate, plank, carry, run) which make our Marines succeed in their physical capabilities, but also job specific tasks. A recovery week is provided after the 4-week blocks to ensure proper rest is taken before the next block occurs.
The HITT coaches also provide physical testing measures during the calendar year to ensure that our Marines would need to focus on certain tasks such as change of direction, speed, 3-mile run, or strength.
UNIT HITT
As a unit leader small or large, you can get your Marines involved by contacting the HITT program coordinator and scheduling a time for your unit to train. All HITT sessions are coordinated and led by highly qualified strength coaches, allowing unit leaders and commanders to be confident their Marines are receiving superior training.
HITT SESSIONS
If you are an active duty or reserve service member and your current unit is not participating in the program, you are welcome to participate in one of our open HITT sessions. Open HITT sessions will allow Marines the opportunity to train with a group of motivated HITT enthusiasts. All open HITT sessions will be led by our highly qualified strength coaches.
OPEN GYM
If you are unable to attend a unit or open HITT session, you are welcome to train during our open gym hours. Please sign in on our HITT center sheet during open gym hours.
---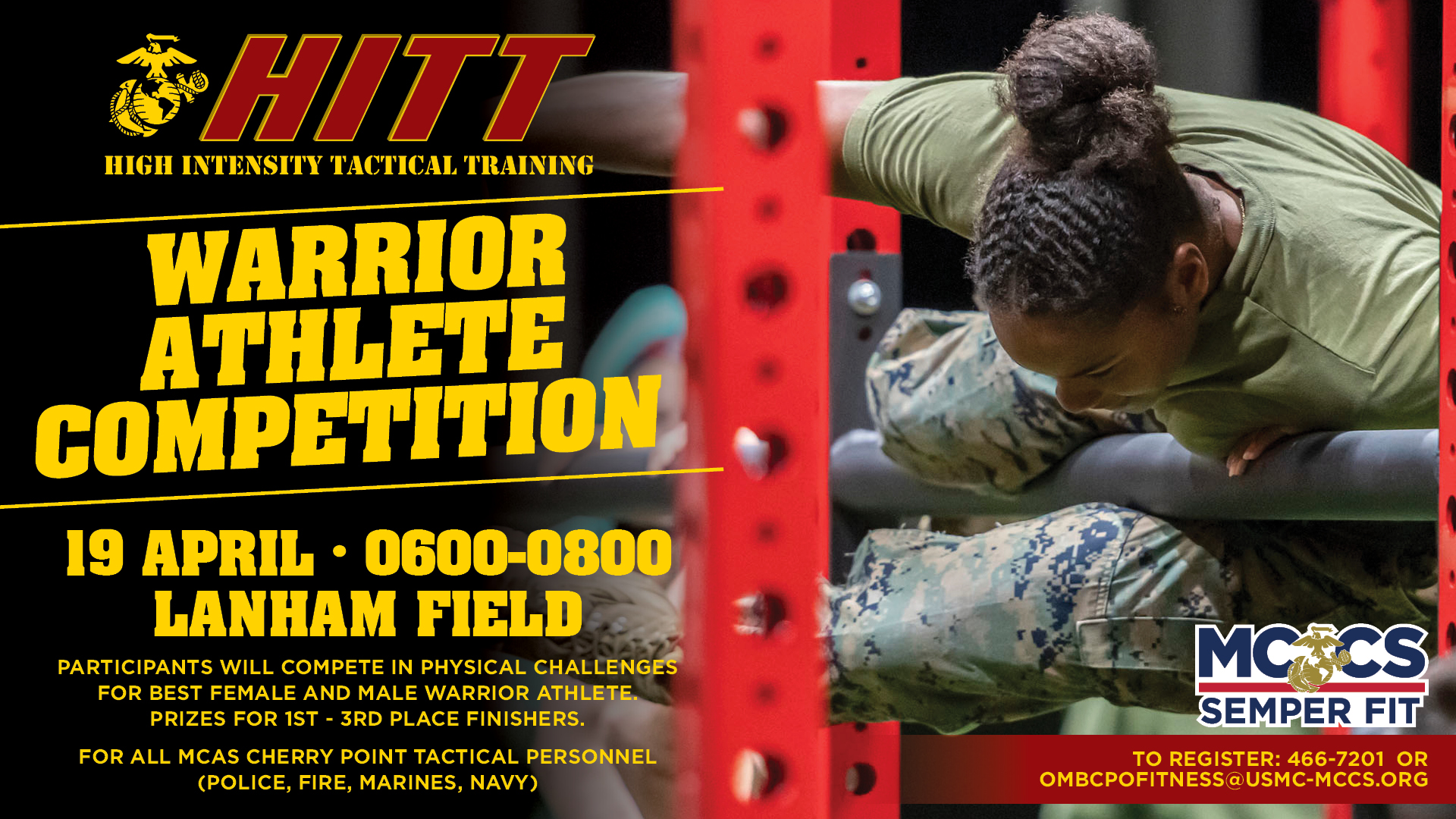 HITT Installation Challenge
Participants will compete in physical challenges to determine the best female and male warrior athlete. Prizes will be awarded for the top three finishers. Competition is open to all MCAS Cherry Point tactical personnel (police, fire, Marines, Navy).
To register, contact the HITT offices via email, or call 466-7201.
---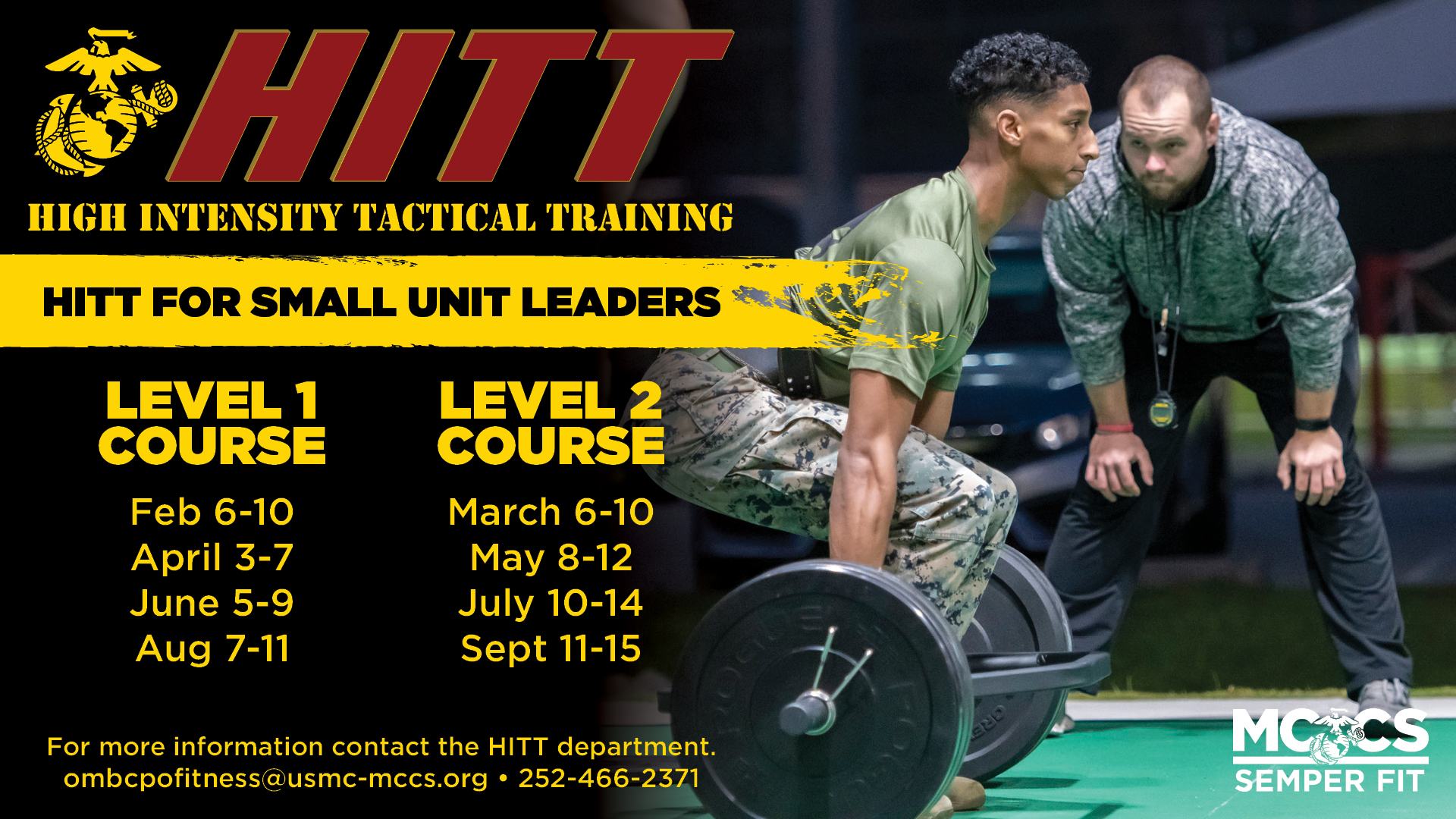 HITT Training Course
Level 1 is a five-day long course designed to teach Marines the skills to lead effective and safe workouts to enhance unit readiness. Level 2 narrows the focus to creating and administering effective workout cards. Prerequisites: First class PFT/CFT, attend a minimum of 3 coach led HITT sessions, and command approval.
Hours
Monday
0500-1630
Tuesday
0500-1630
Wednesday
0500-1630
Thursday
0500-1630
Friday
0500-1630
Saturday
closed
Sunday
closed
Hours of Operation
Monday
0500-1900
Tuesday
0500-1900
Wednesday
0500-1900
Thursday
0500-1900
Friday
0500-1900
Saturday
closed
Sunday
closed
No open gym during coach led sessions.
Coach led sessions are for active duty and active reservists only.
Coach Led Sesions
Monday
0600-0700
1130-1230
1530-1630
Tuesday
0600-0700
1130-1230
​1530-1630
Wednesday
0600-0700
1130-1230
​1530-1630
Thursday
0600-0700
1130-1230
​1530-1630
Friday
0600-0700
1130-1230
​1530-1630
Saturday
closed
Sunday
closed