High Intensity Tactical Training (HITT) is a comprehensive strength and conditioning program that provides programming, facilities and education for active duty and reservist Marines. It focuses on physical resiliency and combat readiness. Phases of work out include pre-deployment, deployment, and post-deployment, or building your own workout templates, the Marine can fully develop and maintain their physical readiness and resiliency.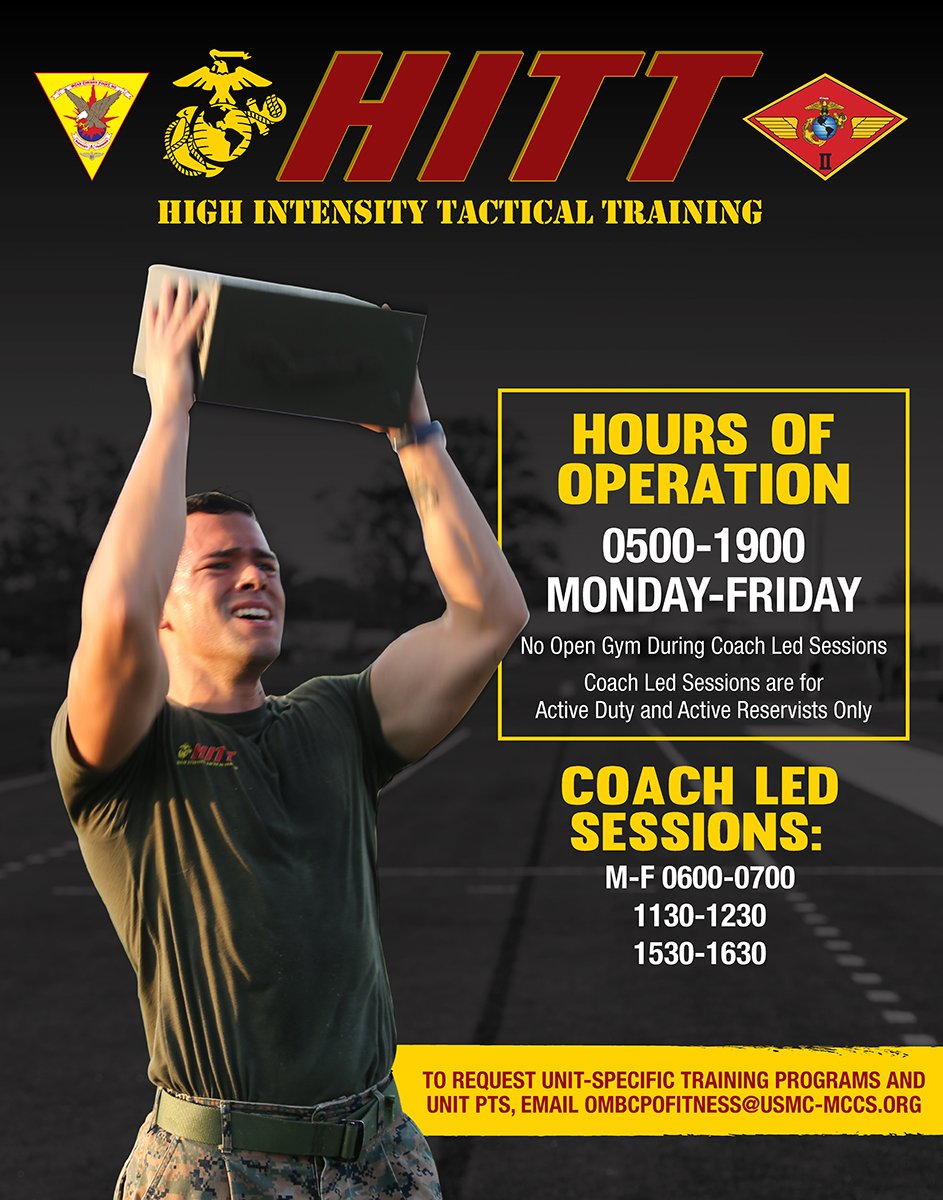 The tactical strength and conditioning program encompasses 4-week training blocks within the calendar year to prepare Marines for PFT/CFT seasons. Each Marine will be given a tracking sheet for these block periods to ensure progress has been made in our HITT program.
These training blocks contain the foundational movement patterns (hinge, push, pull, squat, lunge, rotate, plank, carry, run) which make our Marines succeed in their physical capabilities, but also job specific tasks. A recovery week is provided after the 4-week blocks to ensure proper rest is taken before the next block occurs.
The HITT coaches also provide physical testing measures during the calendar year to ensure that our Marines would need to focus on certain tasks such as change of direction, speed, 3-mile run, or strength.
UNIT HITT
As a unit leader small or large, you can get your Marines involved by contacting the HITT program coordinator and scheduling a time for your unit to train. All HITT sessions are coordinated and led by highly qualified strength coaches, allowing unit leaders and commanders to be confident their Marines are receiving superior training.
HITT SESSIONS
If you are an active duty or reserve service member and your current unit is not participating in the program, you are welcome to participate in one of our open HITT sessions. Open HITT sessions will allow Marines the opportunity to train with a group of motivated HITT enthusiasts. All open HITT sessions will be led by our highly qualified strength coaches.
OPEN GYM
If you are unable to attend a unit or open HITT session, you are welcome to train during our open gym hours. Please sign in on our HITT center sheet during open gym hours.
---
Train the Trainer Courses
Our strength and conditioning staff is holding Level 1 and Level 2 Train the Trainer courses here at Cherry Point.
We are taking a different approach with the structure of the courses. Level 1 applicants must have a first class PFT/CFT score, which we preferably want 255 and up. Level 1 applicants must attend a minimum of three HITT sessions before the Level 1 course starts.
Level 2 is more on how to structure a PT session and coach your Marines. Level 2 will be more in depth information as well as practical such as leading a proper warm-up, external and internal cues for movement patterns during a PT session, etc. Here are the dates and time frames for Level 1 and Level 2:
Level 1: July 11th-15th- 0700-0930
Level 2: July 25th-29th- 0800-1100
Level 1: August 8th-12th-0700-0930
Level 2: August 22nd-26th- 0800-1100
Level 1: September 12th-16th- 0700-0930
Level 2: September 26th-30th- 0800-1100
Level 1: October 17th- 21st- 0700-0930
Level 2: October 31st- November 4th- 0800-1100
Give us a call at 466-7201 for Level 1 applications. We must have those applications at least two weeks before the course starts.
---
HITT Frequently Asked Questions
Why is the HITT center only open to military personnel?
The HITT program and facility is designed as a military training facility with a specific mission of increasing overall fitness levels that directly transfer to combat. Please refer to MARADMIN 601/12 as a source document.
I am not a Marine but am stationed on MCAS with another branch of service. Will I be able to participate in the program?
Yes, the program is available to all active duty and reserve service members.
Can I train on my own outside of open gym hours?
Due to the nature of the HITT mission, individual training during scheduled HITT sessions is not authorized.
I have very little experience with Kettlebells, Olympic lifts, TRX and some of the other forms of training used in the HITT program. Will your staff offer training for individuals like myself?
Absolutely, the HITT staff is here to help! We will be offering clinics and classes on the various modes of training used within the HITT program.
Can I check out gear from the HITT center to train my Marines?
Due to limited gear and serviceability issues, gear from the HITT center will only be available to use within the facility during open gym hours.
Do I have to do HITT workouts during open gym hours?
No, however the HITT mission will always take priority over other PT programs. Once the HITT mission is met, additional equipment and resources can be used for individual PT.
Hours
Monday
0500-1630
Tuesday
0500-1630
Wednesday
0500-1630
Thursday
0500-1630
Friday
0500-1630
Saturday
closed
Sunday
closed
Hours of Operation
Monday
0500-1900
Tuesday
0500-1900
Wednesday
0500-1900
Thursday
0500-1900
Friday
0500-1900
Saturday
closed
Sunday
closed
No open gym during coach led sessions.
Coach led sessions are for active duty and active reservists only.
Coach Led Sesions
Monday
0600-0700
1130-1230
1530-1630
Tuesday
0600-0700
1130-1230
​1530-1630
Wednesday
0600-0700
1130-1230
​1530-1630
Thursday
0600-0700
1130-1230
​1530-1630
Friday
0600-0700
1130-1230
​1530-1630
Saturday
closed
Sunday
closed