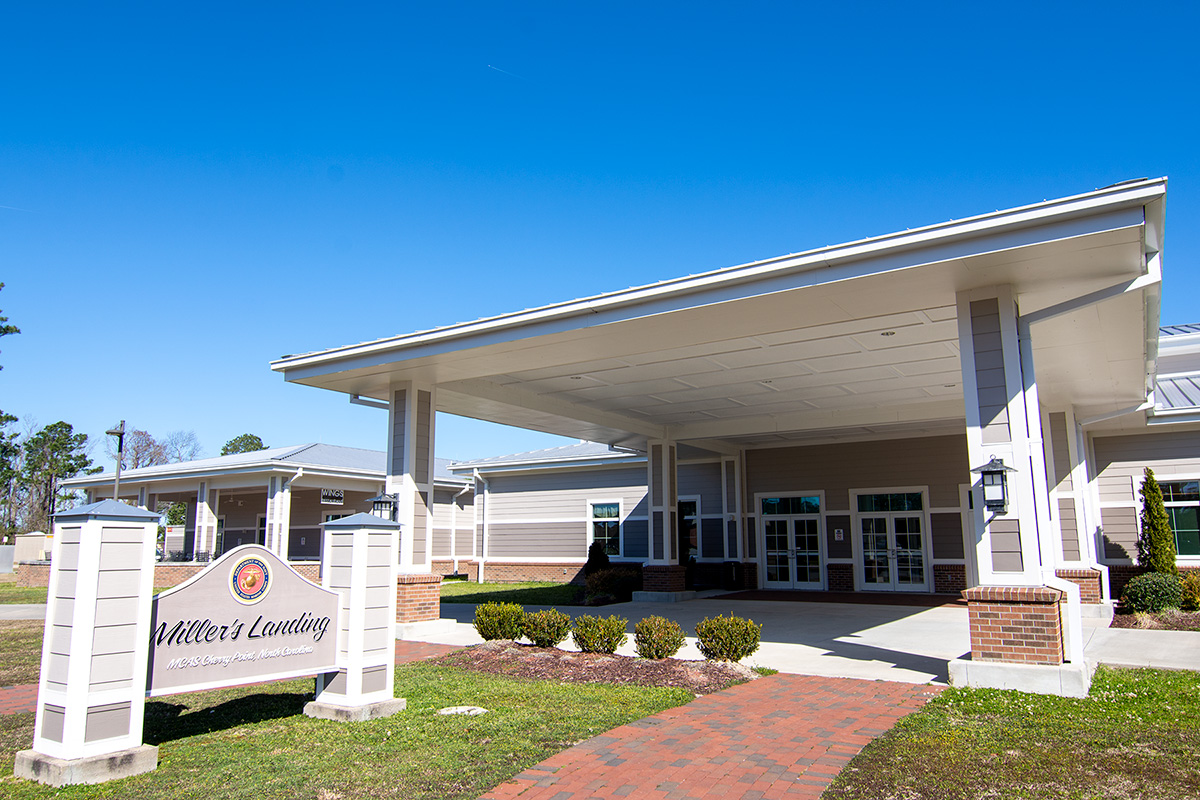 Miller's Landing
With breathtaking views of the Neuse river and three ballrooms that can be rented separately or combined to seat over 500 people, Miller's Landing is the ideal location for your next wedding, reception, conference, ceremony, or other large event. A total of 22,000 square feet of elegant indoor ambiance and gorgeous outdoor scenery is here for your pleasure. State-of-the-art audiovisual equipment is available to meet your digital presentation or display needs.
Inside Miller's Landing, you'll find Wings Restaurant along with Cunningham Lounge (officers club) and Rockers Lounge (staff NCOs and DoD patrons).
To plan your next event at Miller's Landing, or for catering information, contact the Conference & Catering Department at 252-466-9067.

Wings Restaurant
Wings Restaurant at Miller's Landing serves up a casual American menu in a relaxed family setting. From pastas and steaks to salads and seafoods, Wings guarantees that even the pickiest eaters in your family will find something they enjoy. Wines, bottled beers, and draft beers are available for the adults. Wings presents seasonal menus and daily specials to provide fresh choices. Gift cards are available for purchase year round.

Cunningham Lounge
In memory of Lieutenant Colonel Alfred Austell Cunningham, we serve up good times for Marine Corps and Navy Officers. We'll host parties for sporting events, Hail & Farewell, retirement and promotion celebrations, and birthday parties. Call us or drop in to set up an event.

Rockers Lounge
Rockers Lounge is the place to kick back and relax for Staff Non-Commissioned Officers and DOD patrons. Gather to watch your team on one of our big screen TVs or host Hail & Farewell, retirement or promotion celebrations, and birthday parties. Call us or drop in to set up an event.