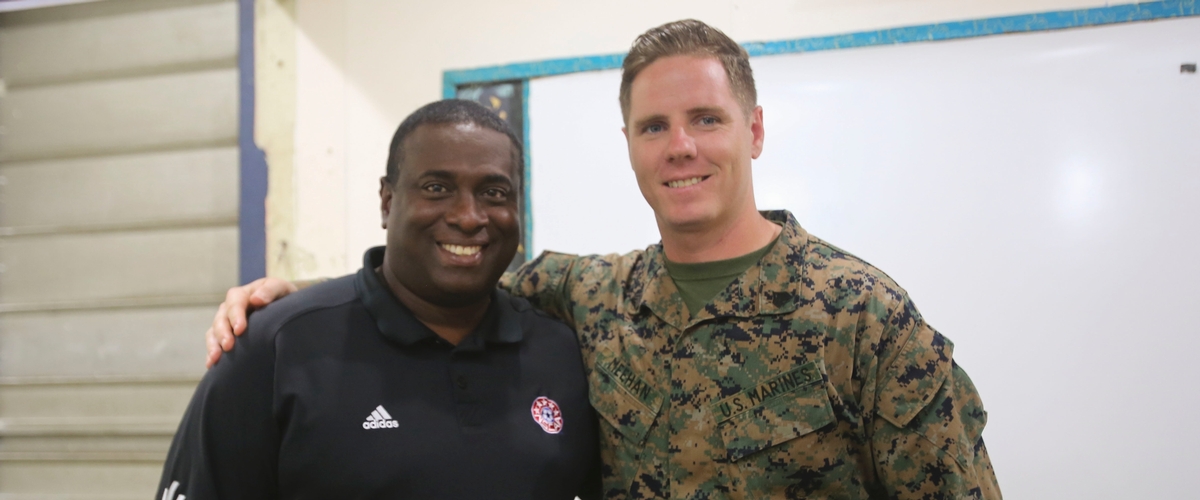 ---
To support National Mentoring Month, the Marine For Life Network hosted a Facebook Q&A session with American Corporate Partners (ACP), a mentorship resource organization focused on helping transitioning service members. Check out a quick summary of what was discussed, so you can get involved today:
ACP is a nation-wide, non-profit organization that offers free, one on one, yearlong mentorship.
Over 2,850 veterans, active duty, reserve, National Guard men and women are currently enrolled in the program getting advice, preparing for interviews, refining resumes, networking and preparing for future employers.
Your mentor will be someone from ACP's 70 partnering companies.
When you sign up for a mentor with ACP your mentor will be one of ACP's partnering companies. Most companies are Fortune 500 (21st Century Fox, AT&T, Caterpillar, Disney, The Home Depot, Lockheed Martin, Raytheon, USAA and Wells Fargo just to name a few).
Seventy percent of the mentorships with ACP are long distance.
ACP works with thousands of veterans and because of their nationwide presence about 70 percent of their mentorships are long distance. To support these virtual relationships, pairs meet monthly through phone or videoconferences to discuss career development goals.
Mentors are selected thoughtfully.
After applying, each veteran conducts an orientation call with a staff member to discuss their specific goals and Mentor preferences. ACP then hand selects a mentor from their pool based on similar career interests and professional experience. Each mentorship also has a designated staff member who checks in regularly throughout the year to provide support and troubleshoot if necessary.
Post 9/11 veterans are eligible for ACP.
ACP is available to any post 9/11 veteran who has served a minimum of 180 days on active duty (includes basic training/schooling). This also includes reservists and The National Guard.
ACP has services for others too.
For those who do not have post 9/11 service or aren't ready to take on a yearlong mentorship, ACP has AdvisorNet, a free networking platform for veterans to reach out to professionals for advice.
Their mission is veteran-friendly!
ACP's mission is to help veterans make the transition from the military to the corporate world as smooth as possible, and help people find meaningful careers post service. ACP accomplishes this through their personalized pairing system and by checking in regularly with our veterans and mentors throughout the year to provide extra support and ensure your mentorship's success.
Each mentorship is customized to fit your specific goals.
ACP works with veterans who are job searching, adjusting to a new role, considering obtaining a degree or are current students, and even veterans interested in starting/growing their own business.
Ninety-eight percent of ACP users would recommend it to another veteran.
ACP has some pretty impressive success stats. 11,000 people have completed the program and 1289 got jobs in 2016. ACP checks in regularly with their mentorships to offer support and they also survey everyone in the program to get direct feedback. Check out what veterans are saying about the program here.
ACP recommends signing up for a mentor during your transition.
ACP welcomes mentor applicants at any point in their transition or post-transition but they recommend the sweet spot at 12-18 months prior to your ETS. The reason for this is because their mentorships last up to a year.
Are you ready to connect with ACP? Set yourself up for success in your next career by signing up with ACP today. Make sure to put 'Marine for Life' under the referral.
Still searching for more in-depth assistance with mentoring? Contact your installation's Transition Readiness team. Do you want to participate in a future M4L Facebook Q&A? Join the Marine For Life Network by completing the form. You can also follow Marine for Life on LinkedIn, Facebook, and Twitter.