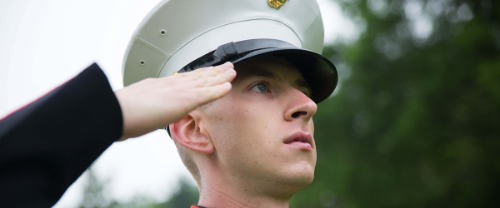 ---
During World War I, Americans hung blue stars in their windows for every family member serving in the military. If a loved one died in service, a gold star replaced the blue one. Since then, the Gold Star has symbolized the spouses and family members of those who made the ultimate sacrifice. Every year on April 5, America salutes these spouses on Gold Star Spouses Day. The tradition began in the early part of the 20th century as Gold Star Mother's Day, observed on the last Sunday of September beginning in 1936. An organization known as Gold Star Wives began operating before the end of the Second World War, and the Gold Star lapel button tradition was established in the summer of 1947.
The terms Gold Star Family, Gold Star Spouses, and Gold Star Wives traditionally refer to the surviving loved ones of military members who lost their lives while serving their country. Gold Star Spouses Day was created to honor these loved ones who have sacrificed so much. The designation of Gold Star Spouses Day in December 2010 not only recognized the sacrifices made by these military spouses, it's also a day of remembrance for survivors, a memorial for the fallen, and appreciation for their service and sacrifice for our country.
Gold Star Spouses Day is observed differently by survivors around the country. Some may hold memorial runs, while others host luncheons or have remembrance ceremonies. No matter how it's celebrated, the unifying theme is that Gold Star spouses and surviving family members will not be forgotten.
The Long-Term Assistance Program is a permanent resource for survivors, committed to providing them with sustained, quality assistance from the Marine Corps. We vow to remember the fallen and honor the continuing sacrifices of Gold Star spouses and all survivors of our beloved Marines. If you have questions or need assistance, the belong-Term Assistance Program can be reached at ltap@usmc.mil or call 1-866-210-3421 ext. 2.