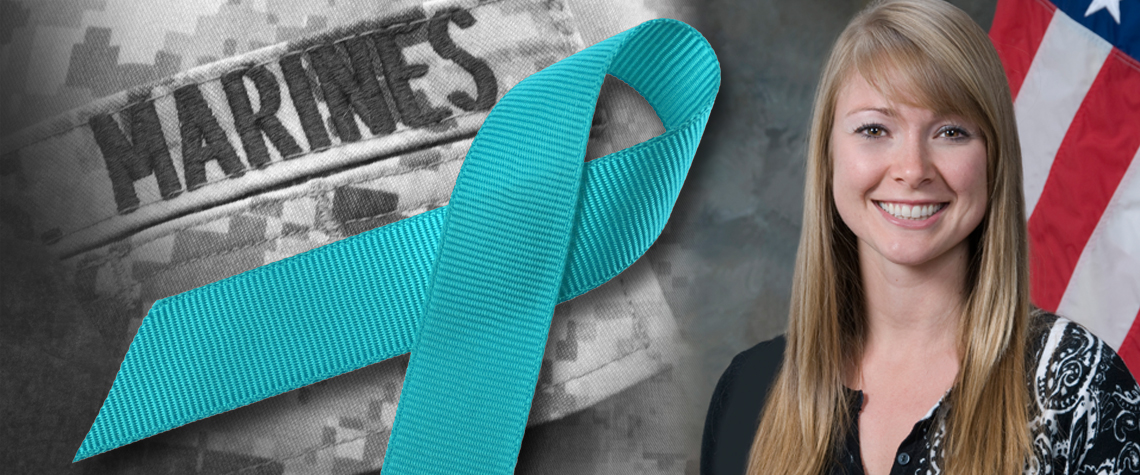 ---
Congratulations to Mrs. Jacqueline Maxwell for her selection as the Marine Corps Exceptional Sexual Assault Response Coordinator (SARC) of the Year award!
SARCs play a critical role in our battle against sexual assault: they empower and assist victims, communicate and coordinate with commanders and unit leaders, train and oversee our uniformed and civilian victim advocates, and educate Marines about sexual assault. Their job does not end at close of business. They are tireless advocates who work on the front-lines to prevent and respond to incidents of sexual assault.
To honor these dedicated personnel, every April the DOD recognizes a SARC from each Service. Nominations were sought from the field, and amid many top contenders, Mrs. Maxwell was chosen as this year's Marine Corps recipient.
In her role as Command SARC for the Marine Aviation Training Support Group (MATSG-22) at Naval Air Station (NAS) Corpus Christi, Mrs. Maxwell supports approximately 3,000 Marines geographically spread across six locations and four subordinate Marine Corps detachments. Since assuming this position in August 2014, she has become well recognized for her innovative, engaging, and effective training and communication approaches. In addition, Mrs. Maxwell co-chaired an initiative that coordinated the availability of victim resources offered by sister Services, installation and community medical facilities, military and local law enforcement, and community programs. This effort culminated in the first-ever "Sexual Assault Prevention and Response Proclamation of Support," where NAS Corpus Christi unit and base commanders committed to synergistically support sexual assault prevention.
"Her devotion to continuous improvement has led to a program that is able to quickly adapt to newly available resources, procedures, and changes in policy," said Col J. A. Rahe, Commanding Officer, MATSG 22, of Ms. Maxwell. "Simply put, MATSG-22 has [a] model SAPR program [that is] a direct result of Jacqueline's tireless efforts."
For more information on the Sexual Assault Prevention and Response Program, click here.